Measure Social and Emotional Learning at Your School FREE
This year, eight schools will have the opportunity to join the growing number of educational institutions that have discovered Social and Emotional learning (SEL) matters.
Your school or district is invited to apply for the first ever
ACT Social and Emotional Journey Program
. Selected schools will receive 500 free ACT
®
Tessera
®
assessments and have the opportunity to share their feedback regarding the experience.
Applications must be submitted by February 8, 2019 and should only include those that have not administered ACT Tessera previously.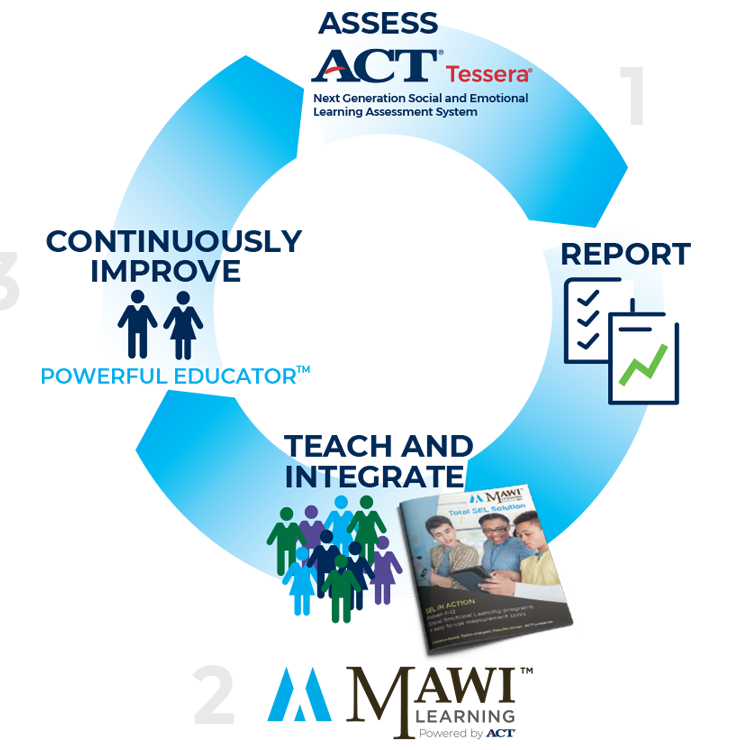 Tessera is a comprehensive next-generation assessment system designed to measure Social and Emotional Learning (SEL) skills. It provides assessments to help K-12 educators' measure and evaluate 6-12th grade students' SEL skills, determine their strengths and areas for improvement, and identify interventions to help them succeed.
Assessments must be administered by July 31, 2019. Schools may purchase unlimited additional assessments for $8.00 (a 20% discount), after using the initial 500 credits.
We encourage you to take the next step in better preparing your students for success in the 21st century.
Apply Today
Read the Blog
Schools and districts obtaining access to the ACT Tessera assessment system, will receive data driven, actionable reports to support student self-knowledge, growth, and continuous improvement, while providing ACT with feedback and user experience stories to enable ACT to continuously improve the assessment system.
ACT will provide the School with up to 500 assessment credits for the ACT Tessera assessment, which School may use to administer to enrolled students until July 31, 2019. Schools may also purchase unlimited additional assessments for $8.00 (a 20% discount), after they use the initial 500 credits, through July 31, 2019. The ACT Tessera assessment system includes:
Reporting: School will receive personalized reports, including individual student reports which empower students to set goals, identify strategies for improvement and monitor progress, as well as roster reports that are available by school.
Resources: Accompanying Tessera reports will be standard ACT Tessera Resources available on the website.
Curriculum: The comprehensive assessment system, includes access to the online ACT Tessera Teacher Playbook which assists school-leaders and teachers on best practices in translating data into action. It also facilitates coaching and personalized support for students, provides a roadmap to help develop students' self-knowledge, goal-setting, and a growth mind-set.
Upon completion of ACT Tessera, ACT will work with the key stakeholders in the School (i.e., school counselors, educators, other leaders identified by the School) to schedule "Feedback Sessions" at the Schools' convenience, during which time the key stakeholders in the School can provide ACT with feedback regarding the ACT Tessera assessment system, including user experience stories regarding the impact of the assessment on School and student decision making, as well as suggestions and recommendations regarding the use of the ACT Tessera assessment system in the K-12 educational setting. ACT is NOT asking the School to provide student personally identifiable information as part of the user experience stories or Feedback Sessions. ACT does request the School's consent to publish excerpts or summaries of the user experience stories, as further detailed in the agreement.
Apply Now
© 2019 - ACT, Inc. All rights reserved.